Description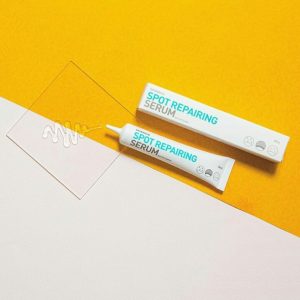 The Skinmiso Spot Repairing Serum is a serum to help improve acne spots. As it soothes and calms irritated spots on the skin, it also creates a protective layer to protect the skin from external causes.
More about the Repairing Serum
1) SKINMISO's WCPGA Complex !
SKINMISO has formed a revolutionary formula comprised of excellent plant extracts. This WCPGA complex is comprised of witch hazel extract, Asiatic penny-wort extract, phellinus linteus extract, tea tree oil, aloe extract, and licorice extract. This spot treatment serum soothes irritated skin by calming inflammation, helping to make your skin clear and beautiful!
2) Effective whitening !
This acne spot treatment serum brightens acne scars that darkened the skin, and brightens overall dull skin. This Spot Repairing Serum brightens skin overall making it very smooth and clear.
3) Rediscovering true sebum-water balance !
With moisturizing and anti-oxidative components taken from nature, this spot treatment serum is ideal for calming and soothing the skin, as well as restoring the skin's ideal sebum-water balance !
4) Trouble Shield created !
It improves the skin condition and prevents from breaking out.
Tips on the Repairing Serum
1) Cleanse your face thoroughly using Rice Foam Cleansing to completely empty out pores. Use SKINMISO's Pore Beauty Nose Pack on areas of face where there is left over sebum.
2) Apply Spot Repairing Serum to red, irritated spots and acne scars.
3) Apply Pore Corset Serum to areas on face with enlarged pores.
4) Please wait at least 20 minutes after applying Pore Corset Serum for maximum results!
How To Use:
Apply a moderate amount of acne spot treatment serum to troubled spots on the skin