Description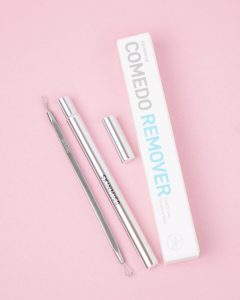 The Benefit of Using Skinmiso Comedo Remover
Squeezing those stubborn blackheads with your fingers can cause major damage to your skin such as scars, inflammation and hyper-pigmentation.
The Skinmiso Comedo Remover is a safe and hygienic tool, made from stainless steel, for removing blackheads and whiteheads. This dermatologist-approved remover comes with two different sized rings on either end, making it super easy to use!
The tool comes with a hygienic aluminum self-storage container to prevent contamination after cleaning. Clean after each use and store correctly.
How To Use:
Wash your face with tepid water (or you can use steam towel) and stick the SKINMISO Pore Beauty Nose Pack first blackhead mask (1Step) on your nose right in the middle for 10minutes.
After 10minutes, remove the first blackhead mask (1Step) and remove the leftover blackheads and whiteheads using SKINMISO Comedo Remover / Blackhead Remover Tool.
Put on the second pore soothing mask (2Step) for another 10minutes.
Take off the pore soothing mask (2Step) and rub in the essence.
Apply the third pore control essence (3Step) on your nose and massage your nose part gently.