Description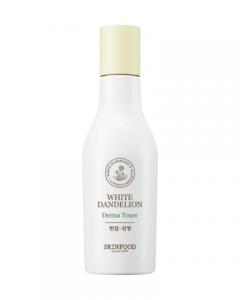 The Benefit of Using SKINFOOD White Dandelion Derma Toner
A hypoallergenic moisturizing toner that transforms sensitive and susceptible skin into smooth, moist and healthy skin. An ultra-moisturizing X highly-adhesive derma toner for a smooth skin base.
Containing 90% naturally derived ingredients! A high-density toner with condensed moisture. With a moisture cohesive formula that firmly holds moisture, it provides rich hydration every time you roll it on skin for moist and comfortable skin all day.
How To Use:
After cleansing, apply the product on hands or cotton pad and pat gently in circular motions on face.
NB: Don't forget to do patch test before application.