Description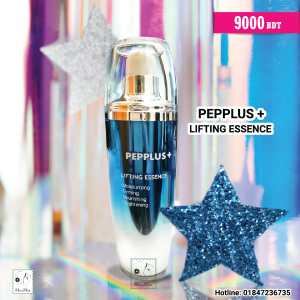 The Benefit of Using PEPPLUS + LIFTING Essence
Patented ingredients using nano technology.
i. Acetyle Hexapeptide-8
Acetyl Hexapeptide-8, is peptide with high purity and quality.Ø
It adjusts secretion of neurotransmitter as muscleØ
Botox effect that means you will experience instant lifting effect.Ø
Prevents wrinkle, caused by repetitive muscle movement, showing anti-aging effect.Ø
Improve uneven toneØ
Nourishes skinØ
ii. Copper Tripeptide-1 (GHK-Cu)
Copper Tripeptide-1 (GHK-Cu) removes damaged collagen or elastinØ
Inhibits scar occurrenceØ
Encouraging skin regeneration through stem cell production.Ø
Significantly improves damaged skinØ
Remarkably improves collagen or elasticity of skin.Ø
Inhibits scar occuranceØ
Profound wound healing effect.
How To Use:
Use this essence daily in the morning and evening after cleansing and toning. Sprinkle the essence into palms of hands & lightly pat your skin until the essence is fully absorbed.
NB: Don't forget to do patch test before application.