Description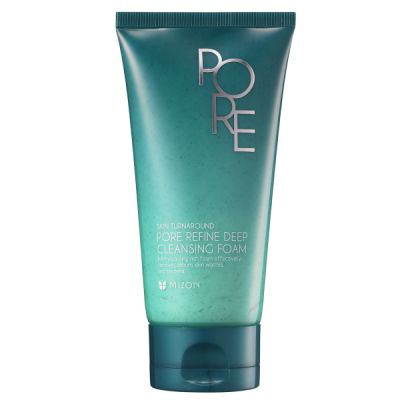 Mizon Pore Refine Deep Cleansing Foam is a minty and cooling foam cleanser with kaolin and charcoal for purifying deep cleansing. Effectively removes sebum, skin wastes, and acne related bacteria. Pores appear bigger by excessive sebum. For roughened skin, absorb sebum carefully and do not damage sebum film to leave moisturizing ingredient.
This cleanser refines pores by deep cleansing them and removing dead skin cells. The minty cooling foam breaks up excess oil, dirt, and dead skin cell that can clog enlarged pores while killing bacteria. Soothing botanicals leave skin moisturized and smooth, while still controlling oil. Also, differentiated elastic texture combines active ingredients with pore cleansing ability to show massaging effect. You will experience perfect pore cleansing effect. Harmful ingredients such as paraben and artificial coloring is minimized. Helps mild cleansing and maximizes skin care effect.
How To Use:
Wet hands and face. Work a small amount of cleanser into lather and massage onto face, avoiding eyes area. Rinse thoroughly with lukewarm water.