Description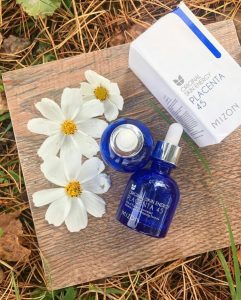 Enriched collagen, hyaluronic acid, and elastin improves dull skin tone and skin elasticity.
Light texture absorbed quickly and leaves no sticky feeling.
Apply an appropriate amount onto face after cleansing and dab until absorbed.
Scent Name:Placenta (Anti- Wrinkle) Whats popular in the beauty industry right now is placenta. Its rich in mineral, amino acids, and protein that prevent skin tiring and promote revitalization. And due to Mizons extensive and advanced professional research, its one of the first to promote placenta benefits. The Mizon Placenta 45 Ampoule is part of Original Skin Energy Ampoules that is an essential factor solution for your skins problem areas. The ampoule, highly enriched with placenta, revitalizes and regenerates deep in your skin. The light texture quickly and effectively permeates the skin with no sticky reside or interruption for following skin care. Mizon Placenta 45 Ampoule is a miracle worker that gives you bright, elastic, and lively skin.
How To Use:
Apply 2-4 drops after toner and tap in for absorption.
Tip: Use Placenta Ampoule Cream after for better results.
Tip: To use with essence, mix 1 drop together.
Tip: Apply ampoule before wearing a mask pack for added effect.
Tip: At this same skin care step, if you prefer to strengthen resilience and enhance elasticity for youthful skin, refer to Mizons Peptide Ampoule.