Description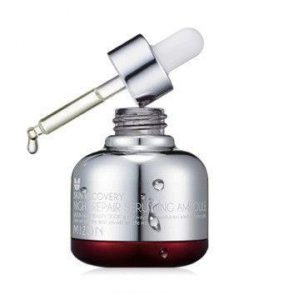 Mizon Skin Recovery Night Repair Seruming Ampoule is an ampoule that helps to powerfully revitalize skin while you sleep. Pat on a few drops before going to bed to help firm tired skin while adding hydration and radiance. Specially formulated to both help with age-related issues and damage.
Size: 30ml
THE MUST KNOW
(1) This serum is chock full of powerful skin-loving ingredients. Lathyrus Japonicas Wild Extract and patented Natto gum work to prevent aging, and lecithin aids skin's regeneration process, fighting the effects of stress and environmental factors.
(2) Rosemary Leaf, Aloe Vera, and Lavender Flower extract reinforce the skin's strength.
(3) Finally, this serum ticks off more of our must-have boxes with hydrating cornus and birch sap, and brightening Adenosine and Niacinamide.
How To Use:
Apply after your evening double cleanse, toner, and essence. Pat onto skin in upward and outward motions until fully absorbed. Follow up with moisturizer.