Description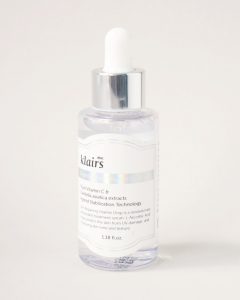 The Benefit of Using KLAIRS Freshly Juiced Vitamin C Serum
We're proud to introduce a new skin care serum that features 5% Vitamin C and is gentle enough for sensitive skin types! Vitamin C is an antioxidant that provides the best in anti-aging protection and is an effective brightening ingredient. The Klairs Freshly Juiced Drop helps:
Fade brown spots
Protect the skin from pigmentation from occurring
Keep the skin firm and reduce visible fine lines
Brighten and even out the skin tone
This product has a pH level of 3.81
Fragrance-free!
How To Use:
Apply to a clean face after cleansing and toner. Can apply as spot treatment or apply all over the face and neck. Finish off with moisturizer. For sensitive skin types, can add a drop and mix with moisturizer before application.
Note: Because even top-of-the-line vitamin C products can degrade from sun exposure, make sure you keep yours away from sunlight to preserve the formula.
NB: Don't forget to do patch test before application.