Description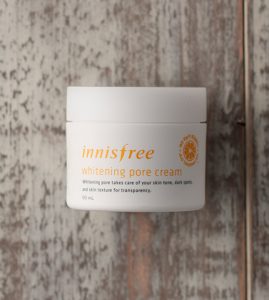 The Benefit of Using INNISFREE Whitening Pore Cream
Squeezed fresh tangerine peel juice for fresher skincare and brighter skin. Fresh tangerine peel juice made by squeezing fresh tangerine peel harvested in Jeju contains six types of citrus flavonoid for brighter, clearer skin.
Skin tone, dark spot, and pore care in one. Brightens dull and uneven skin tone and inhibits melanin generation in skin to brighten the dark spots and smooth the texture for flawlessly radiant skin. 3. Coated with radiance and protect it for smoothness. Light and refreshing moisture penetrates fast to fill your skin with moisture as it has been coated with radiance and protect it for smoothness.
How To Use:
At the end of your skincare routine, put a small amount of cream into your hands and gently apply it around your face and neck.
NB: Don't forget to do patch test before application.