Description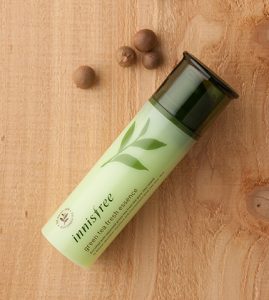 Oily Type: A fresh essence for deep hydration and nourishment made from green tea and green tea seeds
A moisturizing and nourishing essence with eco-friendly Jeju fresh green tea & green tea seeds More moisturizing and refreshing than ever before!
1. Rich in amino acids and minerals, green tea from Jeju's own green tea leaves keeps your skin moisturized.
2. It applies smoothly on the skin, leaving your face fresh and soft without any stickiness.
3. The clove flower extract inside controls sebum and keeps your skin smooth without excessive shine.
*Product suggestions for the 3 most common types of skin
– oily skin: The green tea fresh line
– combination skin: The green tea balancing line
– dry skin: The green tea moisture line
– special moisturizing and nourishing care line: The green tea seed line
Free from: parabens, synthetic colorants, mineral oil, animal-originated ingredients, imidazolidinyl urea
50ml
How To Use:
Pump a dollop of cream into your hand and apply it around your face and neck.