Description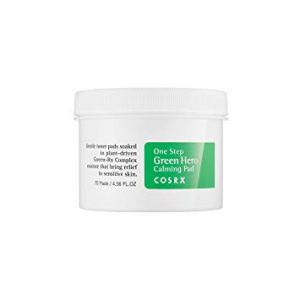 The Benefit of Using COSRX One Step Green Hero Calming Pad
It focuses on weak acid exfoliation and soothing properties for sensitive skin with green tea water 75%, PHA 0.25%, and "Green-Rx complex", consisting of dandelion leaf, centella asiatica, witch hazel, tea tree leaf, and mugwort extract.
Benefits:
Slightly-acidic cleansing pad infused with only naturally-derived ingredients to soothe and calm sensitive skin without irritation.
Contains PHA to gently exfoliate and retexture skin for a smoother touch.
Formulated with Green-Rx Complex, which includes safe-to-use ingredients extracted from centella asiatica, tea tree, and green tea water to soothe your skin.
Tested for skin irritation.
How to Use:
After cleansing, gently wipe the whole face with the embossed side of the pad while avoiding the eye and lip areas.
Can be used as a mask on specific areas of the face.
NB: Don't forget to do patch test before application