Description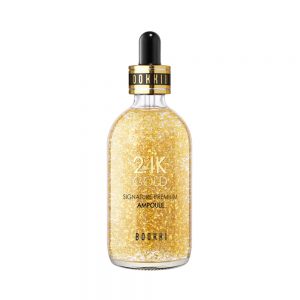 The Benefit of Using BOOKKI 24K Gold Signature Premium Ampoule
Gold ampoule essence which contains 24K Gold and 5 types of Peptide makes your skin of moisture improvement and nutrition.
As it contains a lot of 24K Gold, it improves nutrition and bright of skin.
It provides fresh moisture and nutrition without stickiness, and adjust skin's balance of moist and moisturizing.
It contains 3 type Hyaluronic acid of excellent moisture capacity and 3 types of Collage and then makes moist and elasticity skin.
Capsuletad Peptide of nano size (under 1 um) and effectively provides nutrition ingredient and skin attraction.
It vitalizes skin and makes skin clean and clear.
It improves bright skin tone and wrinkle skin.
How To Use:
Apply after your evening double cleanse, toner, and essence. Pat onto skin in upward and outward motions until fully absorbed. Follow up with moisturizer.
NB: Don't forget to do patch test before application.